Albania / Croatia / Greece / Italy / Madeira / Mauritania & Western Sahara / Turkey
The Mediterranean Seal Research Group (AFAG), involved in monk seal study and conservation in Turkey since 1987, published its own Internet web site in December 1998.
Currently available only in Turkish, the site offers an overview of the status of the Mediterranean monk seal both in Turkey and internationally, as well as information about the organisation and its projects, and membership details.
The site can be accessed at: http://www.mikrobeta.com.tr/afag
AFAG expects to launch an English version of the web page in May 1999. – Cem O. Kiraç, SAD-AFAG.

Küdür Peninsula Declared Protected Area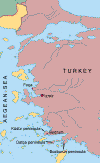 Click on map to enlarge

The Küdür Peninsula (in background) as seen from the Bodrum Peninsula
The Küdür Peninsula, a small, undisturbed and mostly uninhabited stretch of coast on the NW tip of the Bodrum Peninsula, SW Turkey, has been officially declared a First Degree Natural SIT Area. The announcement was made by the Cultural and Natural Assets Protection Council (Izmir division) attached to the Ministry of Culture, and follows an earlier application by AFAG to protect the vulnerable monk seals of the area. As a result of the order, existing tourism investment plans on the Küdür Peninsula and on K. Kiremit Island are to be cancelled.
Surrounded by small islets and reefs, the Küdür Peninsula incorporates some five nautical miles of coastline, characterised by remote rocky shores, some cliffs, and sea caves with pebble beaches. A 1996 AFAG report focusing on Bodrum (Status Survey of the Mediterranean Monk Seal Monachus monachus around the Bodrum Peninsula, SW Turkey) recorded the highest incidence of monk seal sightings at Küdür and its off-lying islets.
Prior to the November 1998 decision, doubts remained over whether the Council would confer First, Second or Third Degree status upon the protected area, each of which held potentially serious repercussions for the survival of the monk seal around Küdür. While First Degree status strictly prohibits any kind of construction, Second and Third afford far less rigorous forms of protection against development. As one of the six parties requested to provide submissions to the Council for the degree decision, AFAG tabled 15 research reports on the Küdür Peninsula's importance to monk seals, avifauna and flora.
Reaching its decision on 27 November 1998, the Council declared most (96.5%) of the Küdür Peninsula a First Degree Natural SIT Area, effectively acknowledging the importance of Küdür as one of the last untouched points around the Bodrum Peninsula. The remaining portion, where some summer houses have already been constructed close to Yalikavak, was declared a Third Degree site.
The protection decision, which automatically cancels all tourism investment plans for the area, had previously been severely criticised by the Ministry of Tourism, Ministry of Transport, and the Society of Marinas and Yachters (MARYAT). However, a private investment plan to construct a marina, a yacht maintenance centre and a holiday village on the southern coasts of the Küdür Peninsula appears to have been scuttled by the Council's decision.
Perhaps realising the significance of the order, investors are now lobbying Turkey's National Monk Seal Committee to convince members that mass tourism and monk seals can coexist, ignoring more than twenty years of scientific evidence to the contrary. AFAG believes that such coexistence is possible "if and only if tourism investments remain well away from Turkey's important monk seal sites." – Cem O. Kiraç & D. Selkan Polatkan, SAD-AFAG.
A plan to construct a road development on the largely undeveloped Datça Peninsula in southwestern Turkey has been foiled by environmentalists – for the time being. The Datça and Bozburun Peninsulas form one of 12 Specially Protected Areas in Turkey, and are noted for their rich biological diversity, long pristine coasts, secluded bays and capes. Much of this coastline has received added protection from development through a Ministry of Culture order proclaiming them First Degree Natural or Cultural SIT Areas.
In October 1998, local environmentalists warned AFAG that the District Chief of the Ministry of Forestry was planning a 15 kilometre road construction along Datça's virtually untouched northern coast, between Körmen port and Mersincik bay. Survey markers were reported to be already in place, suggesting that construction was imminent. Elsewhere on the Peninsula, a number of illegally-constructed houses were reported on the remote and uninhabited Baglarözü and Kalamis bays on the south coast (between Knidos and Palamutbükü), and also a road-widening scheme involving tree felling from Cumali village to Mersincik.
AFAG then despatched one of its own researchers (N. Ozan Veryeri) to the area to investigate. A survey by land and boat, coupled with further enquiries among the local population, substantiated the allegation that a road construction was planned by the Datça Forestry Chief. Questioned over the issue, he claimed that his intention was to build a fire fighting road that would also shorten the journey for people travelling between Mersincik and Murdala bays in the north, to Datça town. While the explanation appeared somewhat implausible to AFAG, the Chief also confessed that he had no permission to build from the Authority for Specially Protected Areas.
Ozan Veryeri reported that the coastline, devoid of human disturbance, is characterised by steep cliffs with several caves and wild forest. Road construction here using bulldozers and dynamite, would, it was concluded, result in serious habitat loss for wildlife, leading to more forest fires due to human penetration in the area, coastal disturbance and excessive and illegal hunting.
AFAG expressed these concerns and reported its findings to various government departments, including the Authority for Specially Protected Areas and the Ministries of Culture, Forestry and Environment.
The Authority for SPAs reacted swiftly, declaring the various developments illegal and announcing court action against those responsible. The Governorship of Mugla Province explained that the road construction, planned only for fire fighting purposes, had been put out to tender, but that it had now been cancelled in accordance with the instructions of the Authority for SPAs.
As a result of additional measures, tree felling has now been halted along the village road of Mersincik, and one illegally-constructed house at Baglarozu bay has already been demolished by its owner in a bid to avoid harsher penalties meted out in court. AFAG intends to press the authorities to demolish another illegal building in the area. – Cem O. Kiraç and N. Ozan Veryeri, SAD-AFAG.

New Monk Seal Protection Areas Face Uncertain Future
The 13th meeting of the National Monk Seal Committee (NMSC), established under the coordination of Turkey's Environment Undersecretariat in January 1991, was held on 24 December 1998. This was followed by a NMSC Technical Sub-Committee session, held on 12 January 1999 at the Ministry of Environment, Ankara.
The main agenda items at both gatherings focused on the Monk Seal Protection Areas (MSPAs) to be declared by the NMSC. At a previous meeting held in Mersin in December 1997, the Technical Sub-Committee had been commissioned to prepare a list of Turkey's most important monk seal sites. Sub-Committee members SAD-AFAG, METU-IMS (Middle East Technical University, Institute of Marine Sciences) and TUDAV (Turkish Marine Research Foundation) subsequently prepared a draft report, based on the results of previous research, consisting of 17 high priority areas. The report, entitled Important Monk Seal Sites of Turkey – Problems and Proposals for Solutions, identified each site by its geographical coordinates, provided an estimate of the current status of the population at each location, listed threats facing those groups, and proposed conservation measures. The 17 sites identified in the report consist of 2 in the Black Sea, 2 in the Marmara, 7 in the Aegean and 6 in the Mediterranean.
Some NMSC members – most notably those involved in coastal investments, such as the Ministry of Tourism, the Ministry of Transportation, and the Society of Marinas and Yachters (an observer NGO) – claimed that more economic benefits should be obtained from touristic activities, and strongly objected to the idea of declaring all 17 sites as MSPAs.
During the heated discussions that followed, Hasan Örek, of AFAG's Cilician Project Office, demanded to know what value the survival of monk seal might have among such lucrative investments. Investors, on the other hand, claimed that co-existence of mass tourism and monk seals is possible, ignoring well-established evidence of the species' extreme sensitivity to human disturbance.
As a temporary compromise, the NMSC has recommended that, where the proposed sites are already incorporated into Specially Protected Areas, National Parks or First Degree Natural SIT areas, they may, in principle, be declared MSPAs. In practice, this would mainly occur on the Aegean and Mediterranean coasts.
Pending further details, the Ministry of Development has already stated its willingness to incorporate the MSPAs onto development charts.
Discussions over the fate of several important monk seal sites, however, remained deadlocked. Agreement could not be reached on MSPA status for sites 10 (Küdür Peninsula-Bodrum Peninsula), 15 (Olimpos National Park-Kemer) and 16 (Cilician region). At the subsequent 12 January Sub-Committee meeting, however, the Ministry of Tourism dropped its objections to Sites 15 and 16 but, bolstered by MARYAT and the Ministry of Transportation, insisted that tourism investments be permitted to continue on the Küdür Peninsula. It was claimed that monk seals could continue to survive on the western coasts of Küdür, and tourism thrive in other areas. AFAG members rejected this fragmentary approach to the conservation of the species (see Küdür Peninsula Declared Protected Area).
During the NMSC meeting, AFAG and METU-IMS also proposed that five coastal zones be closed to all commercial (non-artisanal) fisheries, particularly trata (a kind of coastal trawling severely destructive to coastal underwater ecosystems). The five were identified as: (1) Foça and Yeni Foça (Central Aegean), (2) Çesme and Doganbey Cape (Central Aegean), (3) Kizilliman and Sancak cape (Cilicia, Central Mediterranean), (4) Gökceada Island (Northern Aegean) and (5) the entire Bodrum Peninsula (Southern Aegean). Among these areas, zone (3) was later declared off-limits to commercial fishing by the Ministry of Agriculture (see Wanted: Recovering Fish Stocks, below).
In addition, AFAG proposed that two areas on the Karaburun Peninsula (adjacent to the Foça SPA), where AFAG researchers have identified important monk seal caves, be protected against human invasion in the summer months. – Cem O. Kiraç, SAD-AFAG.

Wanted: Recovering Fish Stocks
The Cilician Basin project, on Turkey's central Mediterranean coast, is focusing on two particular objectives in its drive to win conservation and recovery of the area's monk seals — food and habitat.
From an ecological point of view, these represent the two greatest limitations determining an ecosystem's carrying capacity for any organism, including the Mediterranean monk seal. The population size of the organism is then determined by the competition of other organisms at the same trophic level and predation by the higher trophic levels. While monk seals are an apex predator within the Mediterranean ecosystem, with no predator above them, they nevertheless compete with a most voracious counterpart – homo sapiens.
The monk seal feeds on fish, exploited heavily by fishermen. They also inhabit coastal zones, which are plundered by tourism investors and land speculators. The Cilician Basin project has set its sights on removing or mitigating these threats.
As noted in last December's issue of The Monachus Guardian (Reserve Areas Established in the Cilician Basin), important seal habitats in the area have already been declared as First Degree Natural Sites by the Turkish Ministry of Culture, effectively prohibiting development.
Another important step has now been taken to reverse the plight of fish stocks. The Turkish Ministry of Agriculture and Rural Affairs (through the Aqua Products Circular dated 26 January 1999) has banned all types of trawl and purse seine fishing around seal habitats along the Cilician coast. The newly established protection zone covers almost 15 nautical miles. A relatively small area surrounding important seal breeding caves has also been established as a 'No-Fishing-Zone' by the same Ministry. It is hoped that vulnerable pups will now be safeguarded against entanglement and drowning. During the last 5 years, four pups were found entangled in fishing nets, three of them dead.
Fish stocks in the Cilician Basin have always been meagre compared to other basins where the continental shelf is wide and where the rivers nourish the ecosystem with nutrients. However, socio-economic deprivation in the area drove many inhabitants to fishing. Despite limited fish stocks, commercial demand has driven market prices higher and spurred growth in the industry. Small artisanal boats were then replaced by large trawlers and purse seiners, with the inevitable result that fish stocks outside the three mile fisheries zone were immediately depleted. Under existing law, this zone is reserved for small scale fisheries and banned to trawlers in order to protect Posidonia meadows and fish nursery grounds. However, with the trawlers suffering a drastic reduction in catch, their infraction of the coastal zone became inevitable.
Fisheries research in the region indicates an abrupt decline in the size of fish stocks, as well as in species diversity. It is hoped that the new prohibitions on fishing will result in a recovering ecosystem and fish stocks, but the success will obviously depend upon strict enforcement.
While patrolling has been intensified following the deployment of a Coast Guard vessel, doubts remain over its effectiveness in covering such a wide geographical area.
Until recently, close ties between small scale fishermen and trawler operators hampered Coast Guard activities. Despite the fact that industrial-scale fishing has been largely responsible for driving them into poverty, there were often family ties between the two groups, and artisanal fishers also depended upon the trawlers for small, cheap, fish bait.
As a result of a sustained education programme among local fishermen, those connections are now being dissolved. A significant portion of the fishermen are now ready to report illegal activities undermining the marine ecosystem. To encourage a reporting tradition among local fishermen, some selected individuals were supplied with mobile phones, thereby creating a discreet communications network linking the Coast Guard, the local governor, and the security forces.
A joint research program has been initiated by the Middle East Technical University, the Turkish Ministry of Agriculture and Rural Affairs and the Underwater Research Society - Mediterranean Seal Research Group (SAD-AFAG), to monitor the recovery of the marine ecosystem in the absence of large scale fisheries. Results of the research, if demonstrably successful, could act as a persuasive model in marine and fisheries conservation in many other critical monk seal areas. – Ali Cemal Gücü.
The discovery of an ailing seal at Çesme on 28 February was reported to SAD-AFAG's Foça-based Aegean Programme Office, by the city's Deputy Mayor, Mustafa Cenger.
Arriving at the scene to investigate, a SAD-AFAG team learned from local veterinarian Ismail Ekmekçioglu that the seal had shown no reaction to the people crowding around her, taking photographs. The animal displayed various symptoms of illness, including nasal discharge, bloodshot eyes and wounds that were attributed to mating scratches. Ekmekçioglu had applied tincture of iodine to the wounds and water had been poured over the seal's back "to make it feel better." Following this treatment, the seal was encouraged to return to the sea.
In the days that followed, attempts were made to monitor the animal by boat. On 1 March, following a tip-off by fishers, the seal was sighted around noon lying on a small pebble beach close to Aya Yorgi. She returned to the sea about 20 minutes later, and was observed in typical diving and feeding behaviour until sunset. After brief 1-2 minute dives initially, the animal's diving intervals increased to a typical 4.5 – 5 minutes' duration.
The animal was observed again the following day sleeping on a rocky platform at Çesme – Dalyanköy.
On 6 March, the SAD-AFAG team at Foça was alerted that the same seal had been sighted lying, apparently exhausted, on a beach along the Çesme coast. Upon arrival, the team discovered that the seal was unconscious, its head pointing towards land, but its tail still in the water. She was pulled clear of the sea and examined. Foça Municipality's Veterinarian, Mr. Avni Gök, noted nasal discharge and dimness in the right eye. Body temperature recorded from the rectum was below 32º C and the animal was shivering. Breathing was irregular. A blood sample was attempted, but failed. Antibiotics and vitamins were administered: 10 cc of Gentasol (gentamisin sulfate) and 10 cc Injacom -C (Vitamin C).
The following day, 7 March, the animal was observed sleeping until 14.00. Although she displayed vigorous activity for brief periods, in general she continued to lie on the shore in an exhausted state.
Reached by phone, Dr. Lies Vedder of the Seal Rehabilitation and Research Centre (SRRC), recommended administering additional vitamins and antibiotics. As a result, at 13.30, 10 cc of Primamicin -LA (oxytetracyclin HCl) and 5 cc of Yeldif (vitamin E + rebenium + vitamin B) were administered. The animal did not display any significant reaction during the two injections.
To compensate for water loss, 16.8 gr. of Orisol (ORS) and vidiaylin srp (a multivitamin) were force-fed to the animal. During this procedure, the seal appeared extremely weak, and showed very little reaction. Approximately half an hour later the animal vomited. Within a few seconds, breathing and heartbeat had ceased.
The corpse was transported to Foça for necropsy, which was performed in the municipal slaughterhouse by Avni Gök and Harun Güçlüsoy.
Samples were taken for virological, bacteriological, genetic, heavy metal and PCB analysis, and were subsequently dispatched to the Istanbul University's Aqua Products Department and Middle East Technical University in Ankara.
The interim results from bacteriological analysis of 3 swabs taken from the rectum and nostrils (while the seal was still alive) and the trachea, indicated the presence of E.coli septicaemia, but no evidence of entero-pathogenic bacteria. Although results of other analyses are still pending, it is believed that these were not the main causative agents responsible for the seal's death. A viral infection is currently suspected. – Harun Güçlüsoy and Yalçin Savas, SAD-AFAG.

Artisanal Fisheries Symposium Convened in Izmir
SAD-AFAG's Central Aegean Programme began its life in 1992 as the Foça Pilot Project, situated in the northwest corner of the Bay of Izmir. One of its chief aims since that time has been to encourage the active participation of local artisanal fishermen in the conservation process.
In order to achieve a clearer focus on this issue, a symposium was held in Izmir on 10 February 1999, organized by SAD-AFAG in cooperation with the Ozbek Fishing Cooperative and with the support of the Marine Sciences and Technologies Institute of 9 Eylul University. Artisanal fishermen, fisheries scientists, lawyers and conservationists participated in the symposium. The Deputy Governor of Izmir, coastguard officers, officials from the Ministries of Agriculture and Environment, and journalists attended as observers.
It has been a long-held view of SAD-AFAG that the fate of artisanal fishermen is inextricably tied to the monk seal's. Ecologically, both depend directly upon the health of the coastal ecosystem, which is threatened by industrial-scale fishing (trawls, purse-seines, coastal seines, etc), urbanization and pollution. Experience has demonstrated that the monk seal often becomes the scapegoat of artisanal fishermen in this battle over limited resources, even though they are aware that the real enemy is the mechanized, intensive fishing industry that exploits (either legally or illegally) shallow coastal waters.
Within the Foça SPA (where industrial-scale fishing is prohibited), fisheries management and law enforcement has allowed SAD-AFAG to provide artisanal fishermen with a practical demonstration of the benefits of protecting seals instead of killing or disturbing them.
In particular, SAD-AFAG objectives focus on developing relations with fishing organizations, encouraging artisanal fishermen to organize into cooperatives, and facilitating the formation of a pressure group in Turkey to combat the politically, financially and organizationally potent lobby of the industrial scale fisheries.
During the Izmir symposium, fishermen related their experiences and expressed their concern over the problems affecting the sea; scientists conveyed the results of their research (generally supporting the views of artisanal fishermen); conservationists identified problems and called for cooperative action, and lawyers outlined the ways in which citizens' rights could be exercised under existing laws. At the close of the symposium, the participants released the following official declaration:
Fisheries regulations must be revised according to scientific data to protect coastal ecosystems, endangered marine species and the artisanal fishery, using the most selective fishing gear.
Live catching of small fish for aquaculture installations must be prohibited.
The depth limit for the purse-seine fishery must be increased to 40 meters from 18 meters; and any kind of coastal seines should be prohibited.
The Lampara fishery [a form of night purse-seine fishing – girgir in Turkish; grigri in Greek – utilising powerful lights that legally should not exceed 4000 W and a single light-boat for each fishing vessel] should be forbidden between December-February in Izmir Bay.
The effectiveness of marine law enforcement organizations must be improved; municipalities and local governorships should be active in controlling illegal fishing and marine pollution, taking Foça as an example.
Relevant laws must immediately be applied by national and regional governments to stop pollution originating from the city of Izmir and the Gediz River.
Coastal landfills must be avoided as they are destructive to coastal ecosystems and habitats.
The relationship between artisanal fishermen's cooperatives, scientists, lawyers and conservationists should be strengthened. Artisanal fishermen should organize into fishing cooperatives, and the formation of an artisanal fishermen's lobby must be accomplished. – Harun Güçlüsoy and Yalçin Savas, SAD-AFAG.
Finally returned to the task for which it was intended – after months of being marooned on dry land with mechanical problems – the patrol boat Cevre is again scoring points in guarding the Foça Specially Protected Area (SPA).
Between December 1998 and May 1999, it patrolled the SPA and adjacent waters for a total of 53 days, or 147 hours. It was joined in its efforts by the Municipality of Foça's patrol boat, the Marine Police, Coast Guard, local fishers and SAD-AFAG staff.
During the same period, 11 calls were received informing the authorities of illegal acts being committed within the area. Of incidents occurring within the SPA, 2 cases of illegal diving, 2 cases of pollution caused by a purse seiner, and one case of illegal purse seine fishing were prosecuted in court. In the vicinity of Foça, 3 sets of illegal coastal trawling gear were seized at sea. One vessel was also caught in action and its skipper brought to court.

WWF Halts Funding of Monk Seal Conservation Projects in Turkey
SAD-AFAG projects based on Turkey's central Mediterranean and Aegean coasts face an imminent funding cut-off, it was recently announced. The NGO's current contract with the WWF Mediterranean Programme (MedPO) expires in June 1999, and WWF officials have let it be known that it will not be renewed. According to informed sources, the decision was taken reluctantly because of MedPO's own current financial constraints.
The cut-off will affect SAD-AFAG's Central Aegean project based in Foça, and the Central Mediterranean Project based in the Cilician Basin.
The first long term monk seal conservation effort in Turkey was initiated by AFAG in 1992 as the Foça Pilot Project, operated in association with the local community and the Ministry of the Environment. WWF International, which funded this initiative in 1993, also extended its financial support to the Cilician Basin project in 1995. Since then, SAD-AFAG has received increased funding commitments from a variety of WWF divisions, including WWF International, WWF MedPO, WWF Switzerland, WWF Germany and WWF Belgium.
SAD-AFAG is the leading monk seal and marine ecosystem conservation organization in Turkey, and it is feared that the WWF MedPO decision will greatly affect its ability to operate effectively. The organization, while expressing its thanks to WWF for its 6-year commitment, is now urgently searching for alternative sources of funding.
Copyright © 1999 The Monachus Guardian. All Rights Reserved