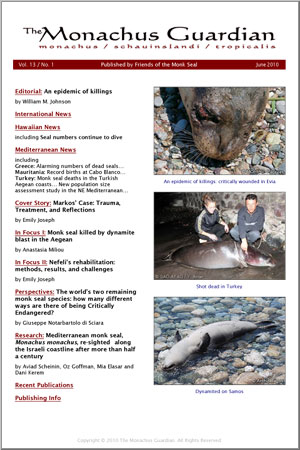 Just published: the June 2010 issue of The Monachus Guardian, the biannual journal focusing on the Mediterranean, Hawaiian and Caribbean monk seals.
This issue of The Monachus Guardian brings a special focus to the Mediterranean monk seals shot and dynamited in the Eastern Mediterranean since January. What is actually being done to eliminate the single most serious mortality threat confronting the species?
HIGHLIGHTS OF THE CURRENT ISSUE:

Editorial: An epidemic of killings.
Hawaiian News: Seal numbers continue to dive…
Mediterranean News: Greece: Alarming numbers of dead seals… Mauritania: Record births at Cabo Blanco… Turkey: Monk seal deaths in the Turkish Aegean… New population size assessment study in the NE Mediterranean…
Cover Story: Markos' Case: Trauma, treatment, and reflections, by Emily Joseph.
In Focus I: Monk seal killed by dynamite blast in the Aegean, by Anastasia Miliou.
In Focus II: Nefeli's rehabilitation: methods, results, and challenges, by Emily Joseph.
Perspectives: The world's two remaining monk seal species: how many different ways are there of being Critically Endangered? by Giuseppe Notarbartolo di Sciara.
Research: Mediterranean monk seal, Monachus monachus, re-sighted along the Israeli coastline after more than half a century, by Aviad Scheinin, Oz Goffman, Mia Elasar and Dani Kerem…
Recent Publications.

The current and back issues of The Monachus Guardian are also available from the Monk Seal Library <http://www.monachus-guardian.org/library.htm>.