Rehabilitation breaks new ground in feeding methods
Two orphaned Mediterranean monk seal pups are being treated at a rehabilitation facility in Foça, Turkey, according to a press release issued by Turkish NGO SAD-AFAG.
The female pups were discovered in separate regions both on the 18 December 2010: the Bozyazı region, Mersin, and the Kas region, Antalya, both along Turkey's Mediterranean coastline. It is thought that a heavy storm might have been responsible for separating the pups from their mothers.
Alerted to the discovery of the pups by the Coast Guard and Gendarmerie, SAD-AFAG dispatched a rescue team led by veterinarian Avni Gök to both sites, where Oral Rehydration Therapy and other first aid was administered. The pups were then transported to the "Foca Monk Seal Rehab Unit" on 19 December.
The pups, reports SAD-AFAG, have so far responded well to treatment. In a potentially important development — and in a break from standard procedure — initial force-feeding was substituted by offering the pups weighed quantities of minced fish porridge in open cups.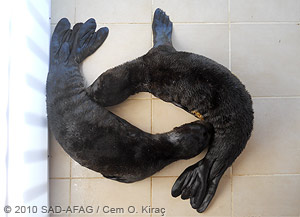 "Both seals," says SAD-AFAG's Cem Orkun Kıraç, "have fully been managing to 'drink' the fish porridge from the cups, ingesting the whole food slowly but without any problem since the 26th and 31st December 2010."
He goes on: "Since these dates, no force feeding has been applied to either pup at all. The seals have gained weight since their arrival, and have already started to chase live fish and octopus in their pool in the rehab unit. It is expected that the pups may start live fish catching and eating soon."
Full Story and Photos: Two new orphan pups under rehab in Foça, Türkiye, SAD-AFAG News Release, 7 January 2011.