by Prof. Dr Đuro Huber, Biology Department, Veterinary Faculty, Zagreb, Croatia
The individual concerned was photographed for the first time on 08 March 2009 by the Monk Seal Group (Jasna Antolović, chair) in the Nature Park Kamenjak at the tip of the Istria peninsula. Confirmed sightings of the monk seal in the area started already in 2004. However, at that time the animal did not have the distinguishable scars on the base of the neck and the base of the hind left flipper. It can be stated that this animal stayed in the area at least for five years and probably almost for 11 years. Automatic cameras pictured her on many occasions in the meantime, but she was also seen several times around the island of Cres, as well.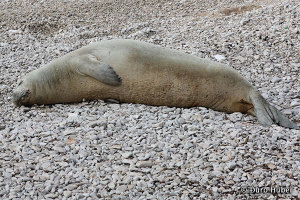 Since the winter of 2013/14 she was frequently found resting on public beaches not exhibiting fear of people. On 21 February 2014 Đuro Huber observed and photographed her in a perfect physical condition sleeping on a beach and breathing 6 times per minute. Some foamy yellow liquid was seen coming out of her nose on several occasions. Jasna Antolović once provided a bacteriological test of the liquid and Pseudomonas aeruginosa bacteria were determined. The seal continued to use beaches near urban areas through summer 2014 when the same beaches were crowded with people. Even close proximity approaches by humans on the shore and in the water were tolerated.
→ Continue reading Note on an old female monk seal that died in Croatia in 2014