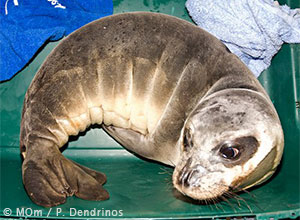 In an announcement dated 18 February, Greek monk seal NGO MOm announced that a young seal found stranded on the Aegean island of Kythira had been transferred to its rehabilitation unit at Steni Vala, Alonnisos, in the Northern Sporades.
MOm reports that the pup was initially seen hauled up on Feloti beach, Kythira, by a local resident on 7 February. A week later, on 13 February, it received another alert, this time by a Kythira veterinarian, who reported that the animal appeared in distress, the photographic evidence and information provided leading MOm to speculate that the animal had remained stranded for the entire week. First aid instructions were communicated by phone. The young seal, however, failed to show any visible signs of improvement after a further two days, was visibly weak, and failed to react to human presence.
'Nereus' – as the seal was named by MOm – was then transferred to the organisation's rehabilitation unit on Alonnisos. Initial examination indicated that it was dehydrated, and suffering from serious intestinal parasitic infection and dermatological problems.
MOm reports the intensive rehabilitation of the seal is now fully underway, including medication, rehydration therapy and feeding with whole fish.
Nereus is estimated to be around 3 months old; it weighed in a 30 kilos. MOm speculates that Nereus may have been in the final stages of lactation, and had not yet learned to catch its own food, before becoming separated from its mother.
Source: Ο «Νηρέας» των Κυθήρων / "Nireas" rescued, MOm, 18 February 2011