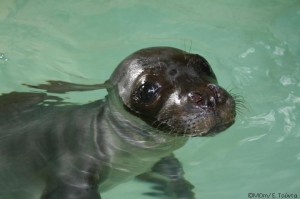 In a brief announcement on its Facebook page, Greek NGO MOm today announced that the orphaned monk seal pup rescued from Naxos on 19 September had died in its rehabilitation unit on Alonnisos.
The statement reads in part: "[The pup] had unstable temperature and sugar levels and died in the afternoon of Friday, October 5th. Pending the results of the necropsy that took place yesterday at the Pathological Laboratory [sic] of the Aristotle University of Thessaloniki and the responsible veterinarian Dr. Anastasia Komninou, it was found that there was a generalised inflammation of the intestine, pneumonia and severe parasitic load. We expect more detailed information from the results of the virological, bacteriological and histological tests."
There is no indication whether — or to what extent — the pup's initial ordeal on Naxos, the lengthy evacuation off-island, or the substandard condition of the rehabilitation unit on Alonnisos, might have contributed to its ultimate demise [See Stranded monk seal rescued on Naxos — but was it harassed with good intentions first?].